Halong Bay is famous for being one of the UNESCO World Heritage Sites in 1994. This wonder is proudly located in Quang Binh province, Vietnam. If you like natural scenery, breathtaking blue sapphire ocean and wide range of biodiversity, you should have a 2-day Halong Bay tour from Hanoi to experience all of the beauty. However, if you are a foreigner, you should have something to guide you to explore this wonder – a friend, a book, a map, or maybe, this article. Let's find out more about Halong Bay, and what you would do in your 2-day Halong Bay tour from Hanoi.
The best moment to visit Halong Bay
It is said that Halong Bay is breathtaking most in the Autumn, from August to October, as the weather is warm and sunny, but not too hot. Foreign visitors usually choose to have a Halong Bay tour in Winter or on Tet holiday. The Vietnamese like to visit this wonder between May and July, as it is time for their summer vacation. However, Halong Bay is stunning in every season, in its own unique way. So you don't have to worry about when to go.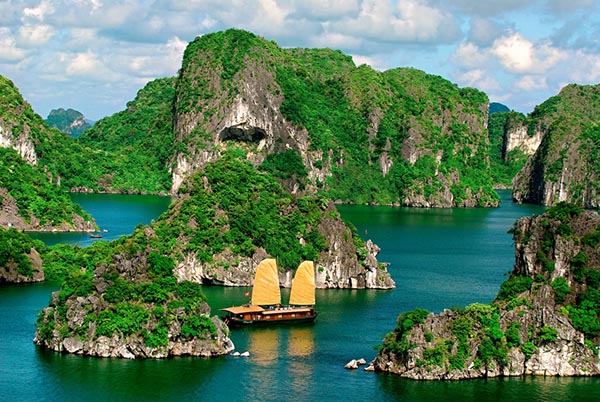 How to go from Hanoi to Halong Bay?
The distance from Hanoi to Halong Bay is 170 kilometers. It takes you 3 to 4 hours to go by car. You can go to Halong Bay from Hanoi by car, by motorbike or by train.
If you go by car, you can go to Hanoi bus station such as My Dinh station and Luong Yen station to catch a bus or a minibus. The bus is available every 15 to 30 minutes. The ticket price is about 5 to 10 dollars, depending on what kind of seat you choose.
If you go by motorbike, you should acknowledge yourself well about Vietnamese traffic and read the map carefully. However, I suggest you not riding a motorbike to Halong Bay, as it is very hot, and it is not easy to find the way. You can get lost easily on such a long ride.
If you go by train, you can start at Gia Lam railway station. It takes you 5 hours with a 5-dollar ticket to reach Halong Bay.
What to prepare for you 2-day Halong Bay tour from Hanoi?
As Halong Bay is famous for beaches and ocean, you definitely should prepare suncream to protect your skin from the boiling hot sunlight. Besides, to protect yourself better, you should also bring a hat, sunglasses and a light jacket. And remember to wear comfortable shoes and clothes.
You should book a hotel, resort, hostel or homestay before going to Halong Bay. There are many tourists, and you may not want to sleep outside the road or the beach. You should choose an accommodation located near the beach, for example, near Bai Chay beach or Vuon Dao stress.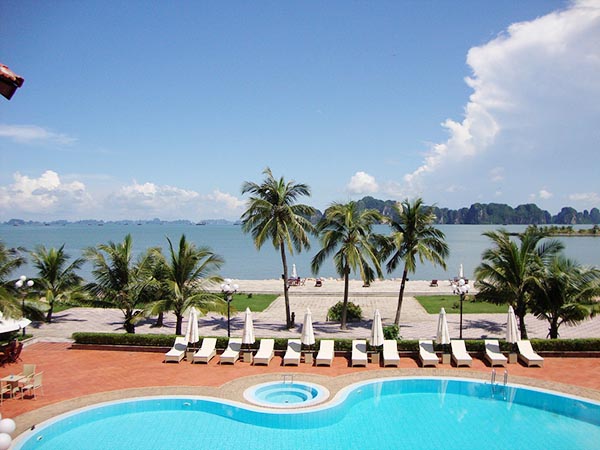 Same thing with booking a boat to travel around Halong Bay and watch the majestic natural islands and islets. You need to book a boat online or call them first, if not you may not have a seat.
To travel around Halong Bay or Quang Ninh province, you may want to note some taxi numbers such as Halong taxi (033. 62 62 62), Mai Linh taxi (033. 628 628), etc.
Where to visit in your 2-day Halong Bay tour from Hanoi?
Bai Chay beach
Bai Chay is the most famous and beautiful beach lying next to Halong Bay. It is an artificial beach with a length of over 2 kilometers and a width of 100 meters. Despite being made artificially, Bai Chay beach is extremely stunning and gorgeous with clean blue sapphire water and soft sand. You can sunbathe, swim or hire a small boat to run around the beach on water. There are some games and sports for you to try, for example, surfing, water skiing, water polo, windsurfing, volleyball and so much more.
You can also see Bai Chay Bridge – one special symbol of Ha Long city from the beach. There are many resorts and hotels for you to stay the night and experience the beauty of the beach at night.
Tuan Chau Island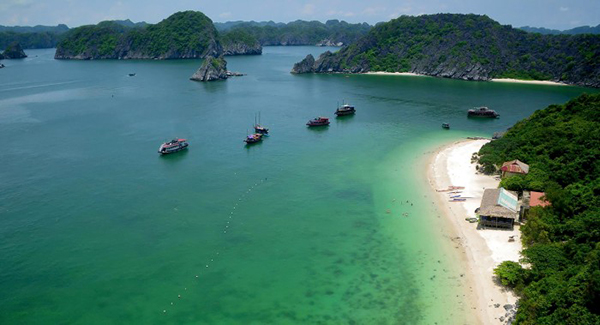 Tuan Chau Island is 2 km far from Halong City. Tuan Chau is the most crowded island in Halong Bay. Tuan Chau is considered as a paradise island as it has breathtaking scenery, lots of amusements, fresh air, and warm weather.
There are many recreational facilities for visitors. Some entertaining activities here are water music, circus, dolphin performance, underwater activities, music festivals every week and so on. There is also a beautifully stunning beach with crystal clear water and some hotels for you to stay overnight. The price to enter Tuan Chau Island is about 5 dollars for adults and 3 dollars for children. You can go from Ha Long City by boat to this gorgeous island.
Several fishing villages
There are many fishing villages such as Vung Vieng village, Cua Van village, Ba Hang village, etc. They are scattered around Halong Bay. It is suggested that you should ask the hotel service or motorbike taxi about how to go to your nearest fishing village. They are quite the same so you can go to only one fishing village. You will experience the daily life of inhabitants living near the ocean, seeing how they work and take care of everything.
Halong Bay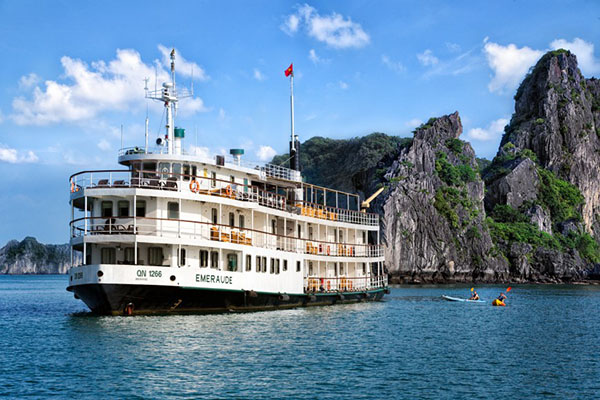 Halong Bay is the key destination on your tour. To discover all the beauty of Halong Bay, you should spend a whole day on the boat. The boat ticket price is about 40 to 50 dollars. You can watch Halong Bay with picturesque over 1600 limestone islets and islands in an area of 1500 square kilometers.
The view is beautiful most in the early morning or in the sunset. The boat will carry you to some highlighted spots in Halong Bay such as Hon Trong Mai, Hon La Vong, Dragon island, etc. It depends on the schedule of the boat and the time of the day that you will visit them all or maybe just some of them. You can swim and sunbathe on some islands which have beaches, just ask the boat owner to carry you there.
What to eat in your 2-day Halong Bay tour from Hanoi?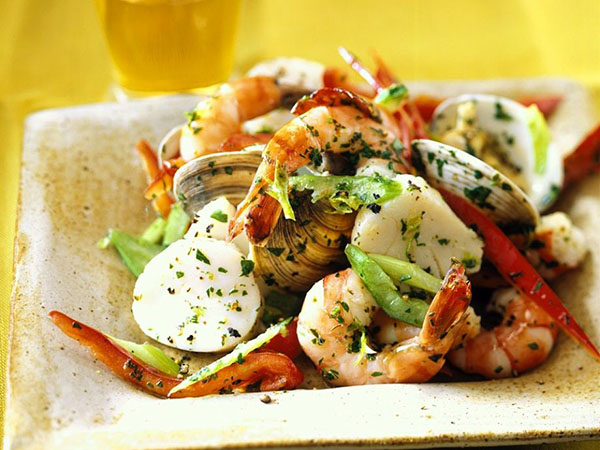 Of course, you will have to eat seafood in Halong Bay the oceanic region. The seafood here is extremely fresh as they have just been caught in the early morning to serve for you. You can eat seafood everywhere in Halong Bay. There are plenty of restaurants on boats or along the seashore for you to choose from.
Here is some little advice for your 2-day Halong Bay tour from Hanoi. Depending on your time and interest that you could arrange your own schedule or tour. You can also book a tour of some agencies to be introduced in detail about this spot. Hope you will have a great time exploring Halong Bay the wonder of the world!