You want to enjoy a relaxing holiday in the emerald green water? You want to experience on a cruise? You want to explore numerous caves and the pristinely spectacular beauty of the Nature? That's why you need to go to Ha Long Bay this holiday. Featuring thousands of limestone karsts and isles in various sizes and shapes, Ha Long is absolutely favored by the Nature Mother to be the most attractive destination of Viet Nam.
Best time to visit HaLong Bay
Ha Long Bay – a center of a larger zone which includes Bai Tu Long bay to the northeast and Cat Ba islands to the southwest has an area of around 1,553 km2, including 1,960–2,000 islets, most of which are limestone. The best time to visit Ha Long Bay is spring to fall. During March to October, the Bay is full of constant sunshine and wind. Though it can get colder in winter than in other zones of Viet Nam, it is still a spectacular place which is covered with winter beauty. In general, it is ranging from 15ºC to 25ºC, so you can comfortably enjoy Ha Long all-year round.
Transportation
There are several ways to Ha Long Bay. For cheapness and safety, you go by coaches, you transfer to Luong Yen Station or My Dinh Station in Ha Noi first and buy a ticket Ha Noi- Bai Chay route. Means of transportation in Ha Long are mainly taxis and hired motorbikes. If you transfer by private car, it's more comfortable & flexible, it will take you 3,5 hours to get Halong. Other way to go to Halong by seaplans – Hai Au aviation, just only more than 1 hour, you will arrival Halong's sky and get a birds-eye view of the thousands of limestone karsts jutting up from the jade green waters and see remote fishing villages, this is an experience like no other!
Things to do in Ha Long Bay
Going sightseeing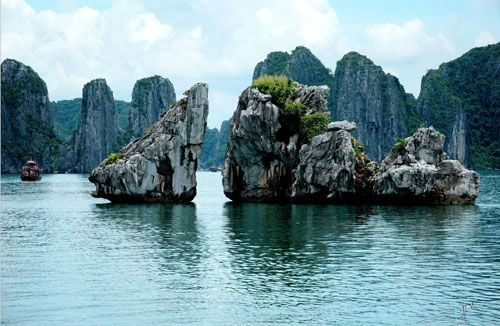 This mythologized land is actually the precious present from the Nature Mother Earth. If you are in Cat Ba, you can comfortably go swimming in Cat Co 1 & 2 Beaches because they are so large and slope gently to the sea. Visitors also should pay a visit to Tuan Chau Island- the most beautiful island among 1.969 ones in Ha Long Bay to enjoy the biggest artificial beach of Viet Nam and long white sand Tra Co beach then move to Bai Chay beach. Tourists must like discover the system of various shape-and-sizes caves which have unique beauty and charm of million-year stalactites, typicall as Luon Cave on Bo Hon Island, Sung Sot Cave. Visits to Ha Long can also conquer the road to Yen Tu Relic Site to get the wonderful feelings when being on top or pay visits to Bai Tho (Poem) Mountain Relic Site, Tran Quoc Nghien Temple, Quan Ninh Museum, etc.
Tripping by cruises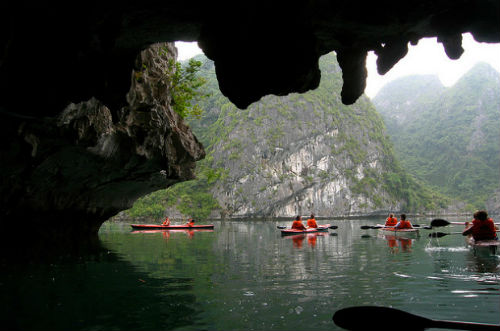 A trip to Viet Nam cannot be completed without a traditional cruise around the fascinate Ha Long Bay. Enjoying Ha Long's sceneries on cruises make tourists feel at ease like being deeply immersed in the one-of -a-kind natural space. Ha Long's cruises slide over a series of spectacular animal-like islands and islets such as Fighting Cock Island, Roof Island. The crews are very friendly and serve you all the comfort and safety throughout the trips. One of the most exciting activities that visitors to Ha Long could try after touring by cruises is kayaking. It is the best way for tourists to discover breathtaking Ha Long Bay with the six hundred square miles of paradise by paddling kayak boats. It is considered a must-do if you really want to explore the whole Ha Long Bay to contemplate the whole superb looks of Ha Long Bay and discover millions-year cliffs and stalactites.
Rock climbing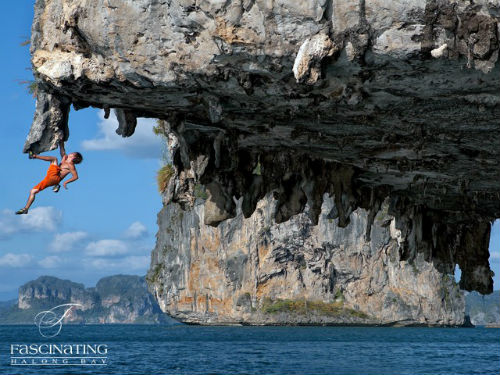 How can you explore the whole cliffs in the most perfectly interesting way? For whom like adventures, rock climbing in Ha Long is an interesting genre of outdoor activities to enjoy the original nature with scenically beautiful 3000 limestone cliffs, many of which rise in the water. The most favourite place that tourist like to take their climbing are in Cat Ba Island. There are tens of climbing places in Lan Ha Bay in Cat Ba, both on land and its surroundings, which accentuates to Pearl Island Site by challengingly high and dangerous cliffs and others like Beo Wharf, Fish Cave, But (pen) Island, Lien Minh (Union) Valley and so forth. In general, people just reach the top height of 30 m and of course, it is seriously recommended to use protect belts in risky areas. Differently from on climbing activity in the land, climbers could jump down to the sea to avoid the dangerous obtacles.
Experiencing in being fishermen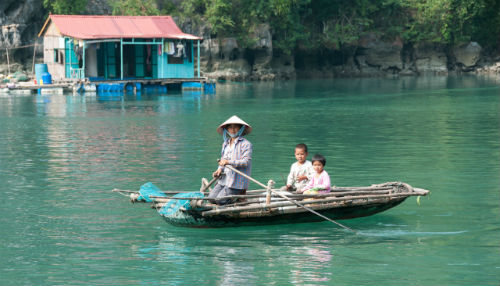 If Ha Long is considered as a garden of fairy castles, Cua Van will be actually an unique wonder of the fishermen here. As being voted to be one of the sixteen most beautiful ancient villages in the world (in 2012), it is really elegant and worth to exlore the pristine tradition and beauty. You can be guided to be real fishermen by knowing to paddle, spread the nets and go fishing squid and shrimp. Visitors from many parts of the world all desire to explore the everyday life activities of fishermen at fisher villages, in general. Meals include dishes prepared with fresh fish and other seafood that tourists got before. It is rustic dishes cooked by local women in Vung Vieng fishing, which is definitely the original food by your working.
Scuba diving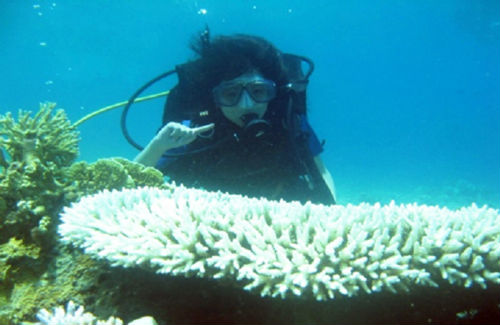 Ha Long has its own diversity of coral reef and ecosystem; therefore, it appeals to so many visitors with sea discoveries by scuba diving. Best recommendations for contemplating the superb coral reef and the various systems of sea creatures are in sea zones surrounding Co To Island, Monkey Island, Cu Island and Sen Island.
Food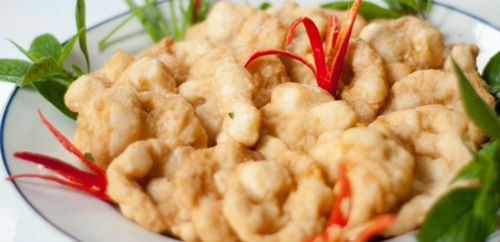 Touring in Ha Long, you not only can enjoy the best sceneries but also the yummiest cuisine. Tourists coming here usually want to try exotic and delicious 7-dish limulus which owns itself seven ways of process like salad, boiled limulus. Geoduck is also prepared in different ways to be tasty dishes like making salad with a lot of spices, besides others like greasy grilled oysters, handmade squid rolls, exotic Ruốc lỗ (mini octopus) and boiled Song fish without water bringing a flavor of natural sea and yummy white strings.
Tips for tourists
– Foreigners prefer going to Ha Long in late autumn or winter to the native. If you want to visit Ha Long at this period, remember to served you enough clothes to keep warm because it is colder than other regions in Viet Nam at that time.
– For whom like adventures by climbing rock, cliffs in Cat Ba Island are quite slippery in summer, thus you need to have good preparations and advices from guide men.