Vietnam is a country with more than 3400 km of ocean coastline and a lot of beautiful beaches. In the recent years, Vietnam is boosting the beach tourism and attracts thousands of local and international tourists. Many beaches of Vietnam are in the top beach list of the world.
In this article, I would like to recommend you several famous destinations for beaches in Vietnam. I hope you may find interesting and useful information to add into your travel tips notebook.
1. Nha Trang
Nha Trang is considered as one of the most attractive beach destinations in Vietnam. Nowadays, Nha Trang is becoming more developed at all tourism aspects such as accomodation, restaurants, nightlife.. Nha Trang has full capacity of developing variety of tourism forms thanks to the natural gifts such as position, landscapes, climate and its culture and humanities. Coming to Nha Trang, tourists can join many activities like scuba diving and snorkeling. It is flanked by six kilometres of prime beach joining white sand and clear water.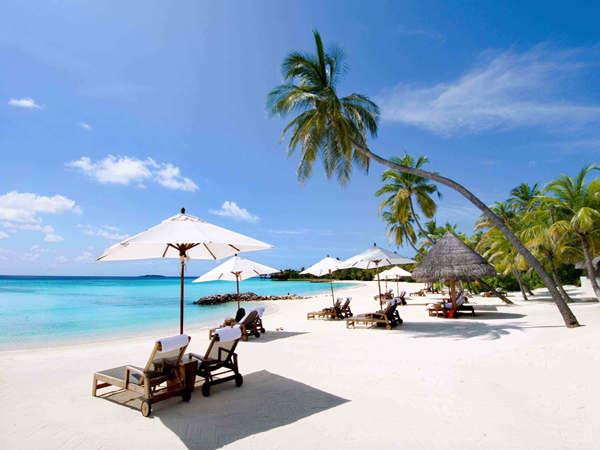 Nowadays, Nha Trang beach becomes an popular destination because of a direct flight from Nha trang to Moscow. Moreover, in domestic, Nha Trang is quite easily to access by road, rail, air or water ways. If tourists want to enjoy a quiet time on beach here, they have to travel farther. Bai Dai beach is a place for more serene atmosphere. Tourists can go there by mortorbike or taxi. A suggestion for tourists for some peace and quiet time is visiting the beach in the early morning
2. Mui Ne
Mui Ne is located in the east of Phan Thiet, Binh Thuan province, far away from 250 km from Ho Chi Minh City. In the recent years, Mui Ne witnesses a rapid development. Mui Ne is less bustling than Nha Trang with a little bit of everything such as restaurants, nightclubs…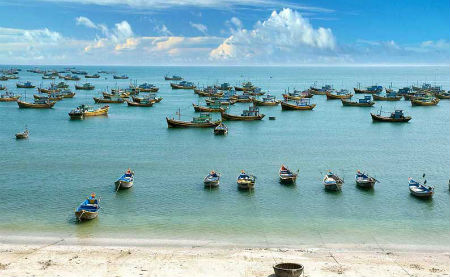 However, Mui Ne is known as the water sports capital of Vietnam. Tourists can enjoy a lot of activities such as scuba diving, snorkeling, windsurfing and kite boarding. In Mui Ne, most resorts and hotels are near to the beach. Tourists can visit two big sand dune areas Mui Ne, the red sand dune and the white sand dune.
3. Phu Quoc
Phu Quoc is known as the pearl island, situated in the Gulf of Thailand. It has population of nearly 100000 people and surrounding by a number of smaller islands and beautiful beaches. In the past, Phu Quoc is full of fishing villages. Slowly, the hotels and resorts are becoming to sprout because of the increasing demand for accommodations and restaurants. However, Phu Quoc still maintains its rustic charm. Tourists can experience such things in Phu Quoc: dirt roads, small beach side restaurants serving grilled seafood or sapphire blue waters. With the new international airport open in August, tourists can take the flights from Singapore and the nearby Southeast Asia countries.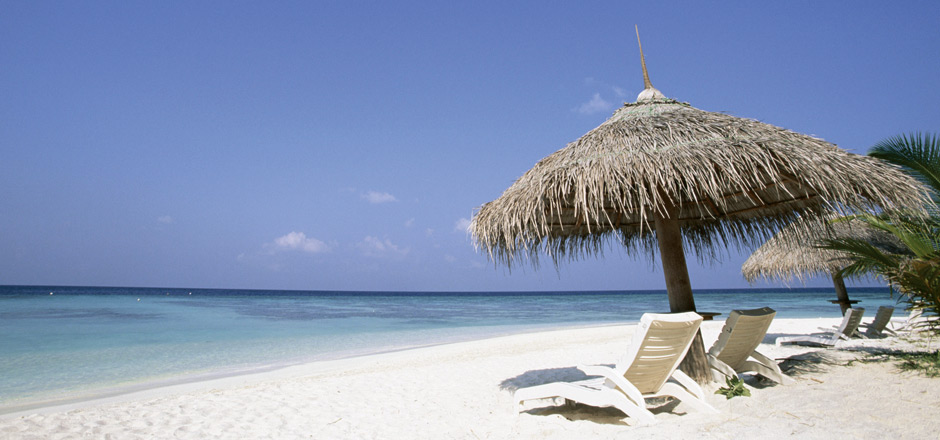 Long beach ( Bai Trong) is an ideal place for sunbathing, sunset watching and swimming. It is also covered by soft yellow sand and swaying coconut palms. Long Beach is the first beach of Vietnam on the list of CNN.com. Along with Bai Trong, Bai Sao is also a very popular destination with dazzling white sand and calm water in Phu Quoc
4. Cat Ba and Lan Ha Bay
Cat Ba is a rugged, craggy and juggle-clad island, located in the north of Vietnam. Each year, Cat Ba welcomes thousands visitors.
Lan Ha Bay is in the south of Ha long bay and known as twin of Ha Long Bay. This bay attracts a lot of local tourists in the summer. Tourists can visit Cat Ba beach the most beautiful beach in Vietnam. It is covered by white sand and turquoise water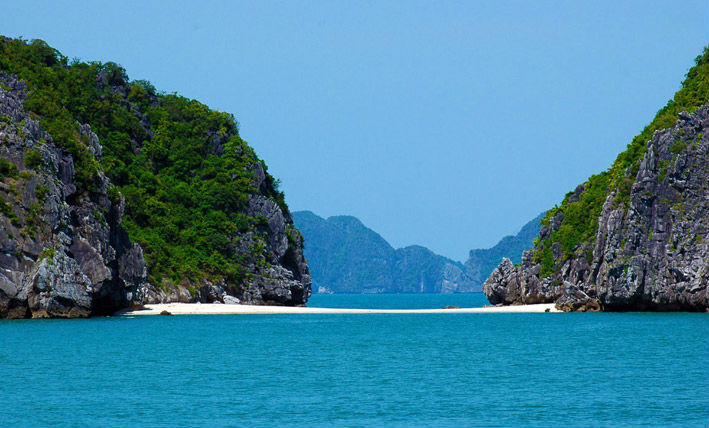 Cat Ba is a small town, so it is hard for tourists to do any activities besides enjoying beach. However, it is an ideal place for rock climbers. Tourists also take some activities such as kayaking and sailing around the islands
5. Da Nang and Hoi An
China beach is one of the most famous beaches in this area. It is served as the military base during the war. Nowadays, it still keeps its pristine features because there are a small number of guesthouses, eating-houses and war memorabilia. It also owns some the swankiest resorts in Vietnam. To have an all-inclusive type experience including eating, drinking, massages, Da Nang is a must-go place.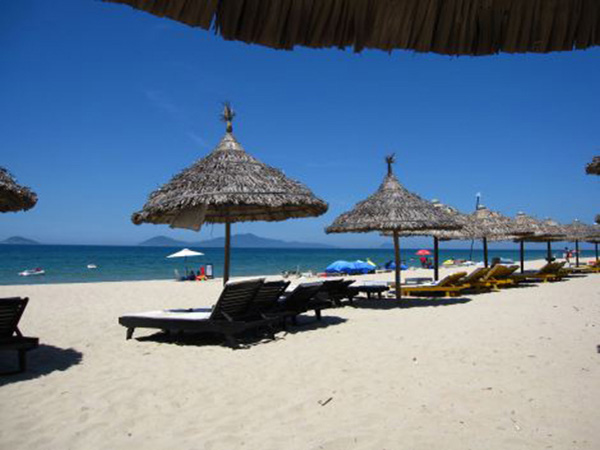 Because there are some undeveloped parts of beach line, Da Nang attracts a lot of backpackers. You can move to Hoi An by taxi or car from Da Nang just in 40 minutes. Hoi An – an old town still preserves its unique features. Travelers may impressed by its charming and quaint atmosphere. Hoi An also has a beautiful beach- An bang beach which is named in CNN.com's best beaches in the world. You may not overlook local restaurants here to enjoy the best foods
I hope that these above suggestions may provide you more useful and interesting information and give you more choices for your itinerary.