Try cruise trips in Halong Bay
Listed on the World Heritage Sites and Natural Wonder of the World by the UNESCO, Halong Bay is one of the most alluring destinations in Vietnam for travelers all over the world. To explore and see completely the beauty of Halong Bay, nothing is better than taking a cruise trip through rock islands, caves and spectacular beaches.
Normally, a cruise trip in Halong Bay will offer tourists many activities. They will enjoy Vietnamese specialties, mainly are seafood. In addition, travelers can take a spectacular view of Halong Bay and explore innumerable islands and caves from the ship. The ship will take you to Sung Sot Cave which is one of the most magnificent and visited grottos in Halong Bay. Plus, tourists are absolutely excited with relaxing activities including swimming, doing kayaking or sunbathing at Titop Beach.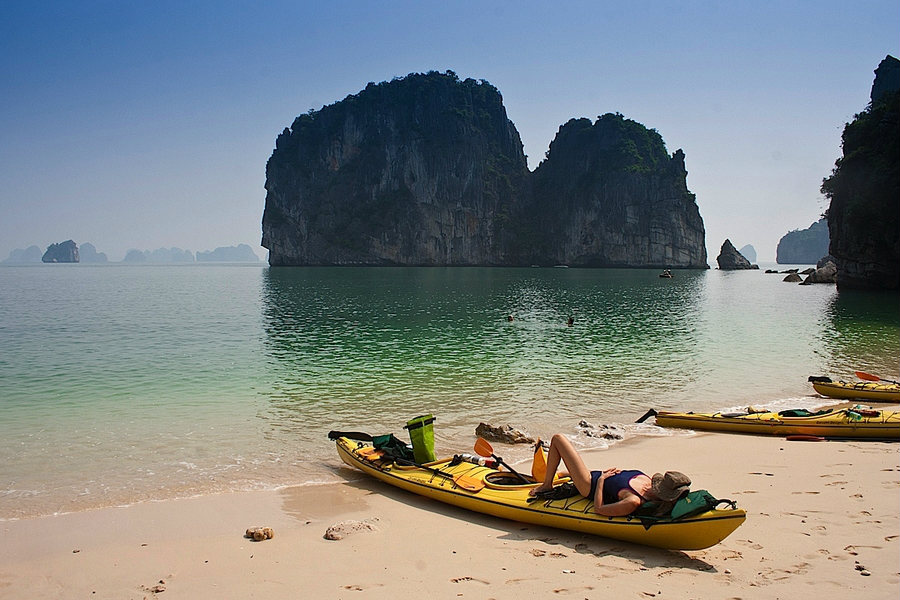 Visit Halong Bay by helicopter
Halong Bay has been the most visited destination in Vietnam, attracts thousands of tourists all over the world each year. However, maybe the best way to feel the full beauty of Halong bay is by helicopter. Taking a panoramic view from the sky helps you will have new experience of beautiful caves and limestone karsts.
Kayaking in Halong Bay
One of the most enjoyable experiences in Halong Bay is kayaking. This is the best way to explore the spectacular beauty of this bay. Travelers will be extremely excited when paddle through islets, visit stunning caves, lagoons, flocks of freely-swimming fishes and unspoiled beaches with clean and and emerald green water. Visitors will have new sight and fully feel the majesty of Halong Bay through strange and charming sceneries which have never been seen in any travelling books.
However, to make your trip interesting, but still safe, you should follow tips about kayaking. Carefully follow the instructions and conditions before kayaking
Always remember to warm up before kayaking and go with your group.
Do not come too close to caves or karsts to because they may suck you in.
Never kayaking right after drinking alcohol as it can make you dull your sense, which leads to unfortunate accidents.
Keeping yourself warm after kayaking in the winter to avoid catching cold.
Swimming in Halong Bay
Halong Bay is considered the heaven thanks to innumerable stunning beaches with white long sand, so there is nothing as great as sunbathing with dazzling sunlight or swimming in the clean, emerald green water. Besides, that is fascinating if you can dive from a cruise to explore the sea. However, the calm tides still possess hidden dangers, so following safety instruction is strongly advised
Remember to warm up before swimming or diving and go with your group.
Should not to swim in the early morning and too late in the afternoon because the water temperature may low, which can negative affect you.
Never swim in deep water or when you don't know exactly how deep it is, and choose activities which are suitable for you.
Don't swim right after drinking alcohol because it can be affect your health and lead to accidents.
Should not to sunbath for too long to avoid catching sunburn.
Keeping yourself warm after kayaking in the winter to avoid catching cold.
Shopping in Halong
Shopping is the do-not-miss activity for visitors in Halong Bay. Through shopping, tourists not only can learn more about culture and society of Ha Long as well as Vietnam, but also bring home some nice souvenirs for their friends or family. One of the most famous shopping destinations should be mentioned is Night market in Bai Chay town. The market is characterized by a collection of open air stalls that sell enormous types of seafood and traditional products including chopsticks, ceramic tea sets and conical hats.
Another bustling market in Ha Long is Ha Long market at the central of Ha Long city. It is famous for its fresh and cheap seafood. Perhaps, foreigner visitors are surprised to see small stores in boats. That is one of special things that make Ha Long be different.
Located in the highlands of Quang Ninh province is Binh Lieu market. The marker has its own beauty with colorful items and agriculture products from ethnic groups called "Tay", "San Chi", "Dao". It can be sure that travelers are really excited to know more about traditional customs and culture of ethnic groups in Vietnam. However, tourists are recommended to bargain when buy goods in markets. Traditionally, sellers often sell products at the higher price than actual one. Thus, tourists should bargain for a better price if they think the product is overpriced; however, bargaining should be apply for items in markets, not for fixed-price goods in super markets. Another issue that tourists should be aware of is fake products from China are bought frequently by local sellers to earn more profit. Therefore, tourists are recommended to check the quality and origin of products thoroughly before purchasing, as well as shop at ensured places such as shopping mall or authorized shops.