Halong Bay is undoubtedly the dreaming destination for both domestic and international tourists in Vietnam not only because of its peerless beauty but also many unique travel experiences. To plan a trip to Halong Bay, people tend to worry about their accommodation due to a wide range of choices. In Halong city, high recommendation for you is to have a chance to join Halong Bay overnight cruise, and especially surrounded by thousands of mysterious karsts by its many advantages.
The plan of trip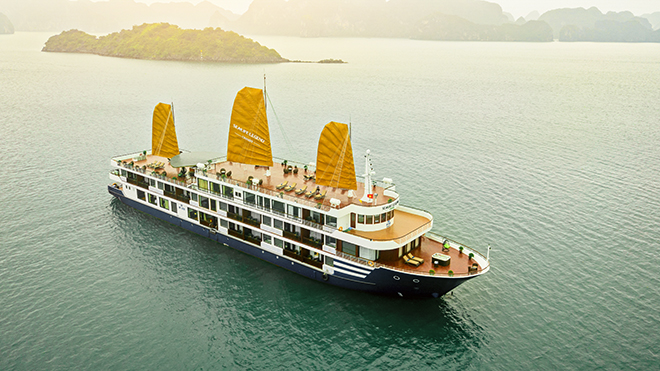 Before booking the cruise, you should find out the schedule of plan built by that cruise. If it matches with your favorite and your budget, let's order. Don't worry about something, you will be guided by the tour guide who speaks English very well. Of course, they have an available itinerary, you have just applied.
One of most popular is during the lunch, you can visit the most beautiful place of Halong Bay through the unique islets. Cruise leads you to see the impressive islets like Fighting Cocks, Duck, Finger, Incense Burner, and Stone Dog. Besides, if you have more time, you can visit two famous caves such as "Hidden Wooden" and "Heaven", which usually attract more foreigners by amazing.
At the same time, you should not miss Sung Sot cave (called "surprised cave") which is considered like one of the largest caves and the most beautiful of Halong Bay. "Surprise cave" has two chambers like a theater hall decorated with the stalactites on the ceiling and the natural skylight the grotto and creating amazing scenery. You can freely swim, trek the island to grace overview of Halong from above.
One of the most beautiful caves in Halong Bay island is Thien Cung. This is one of the most attractive caves in the UNESCO World Heritage area. Spending 45 minutes, you will grace many strange images on the stone from birds, fish to the scenes of human life. Thien Cung Grotto has some beautiful fairies that are dancing and singing in honor of the wedding while in some place. You can hear the sound of a drum sent from the wind blowing across the stone. There are many legends of this cave that you also know the story of a young lady named May and the Dragon Prince from the tour guide.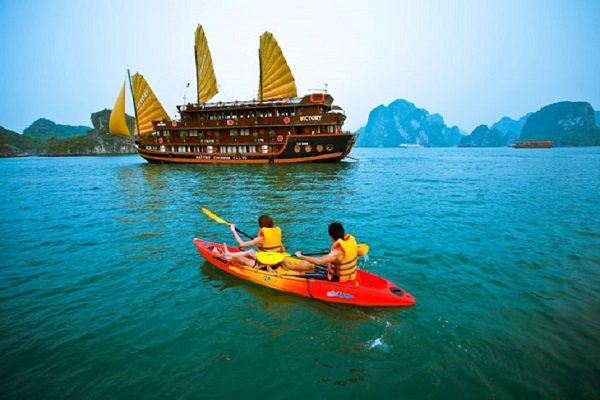 Otherwise, you also discover the fisherman villages. There are several famous villages in the World Heritage Site: Ba Hang, Cua Van, Vung Vieng and Cong Dam. Particularly, Cua Van is the largest village with about 130 floating houses and a population of about 600 people. You will know their work in the early morning and sell achievement for large boats carrying fresh fish to markets on land.
The local villagers have lived on the sea for several generations. And they have created a diverse culture of fishing and living. You not only enjoy the peaceful atmosphere in here, but you also will be welcomed with fresh seafood and folksong performance. No traffic jam like the road, you could easily transfer to floating village by cruise and have just wasted some minutes. Coming here, you can buy drying product and hand-made of local people for friends and family. You also cycle around the village to visit the culture house of village.
One more interesting in Halong Bay overnight cruise is that you can join the activities at night. Some cruises have a dinner in the cave instead of on the yacht. There is nothing more relaxing than having a dinner in such a quiet, romantic and a little mysterious cave. As a result, almost of tourists want to have the organizations in here, particularly, in their special occasions such as a romantic anniversary, birthday party, conference group or even a small wedding with no more 60 guests. No doubt, the menu include both fresh Halong Bay seafood and Eastern and Western cuisine for those people who would like a change from what they have enjoyed in Halong.
After that, you can join in some activities on the cruise such as squid fishing, karaoke, chat, drinking wine in the bar, listening music, watching TV. If you want to experience the squid fishing, you will be provided fishing rods, racquets to actively use them to catch squids. It will be popular for tourists to fish about 30 squids for each fishing night in the squid season
The good quality services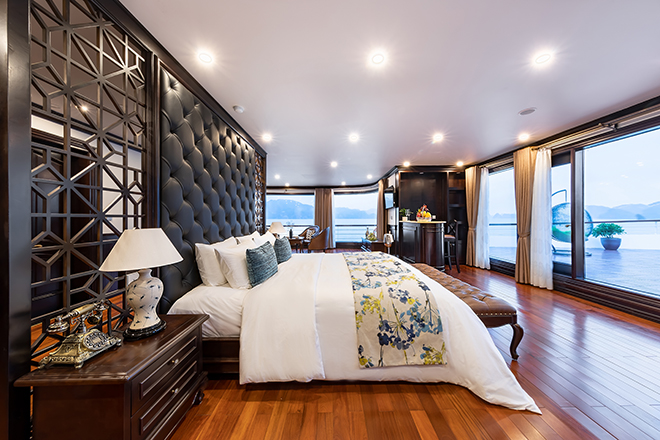 A number of people choose cruises to make their vacations memorable as their value, food, pampering, and family friendly atmosphere bringing all together. It ensures that a cruise is a great value, offering relaxation and fun in an atmosphere which is family-friendly all at the unique board on the trip. At first glance, it also has amazing amenities fitted for royalties. The cabins are spacious and spotlessly clean so they make a perfect trip in Halong Bay overnight cruise. It gives you the chance to upgrade to a cabin with a lovely private balcony so you can chill and enjoy the view. The staffs are attentive and welcoming.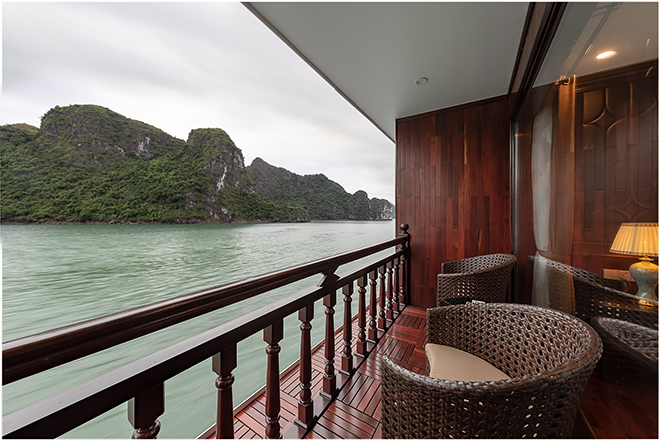 Besides the superb fresh seafood platters on board, there are unlimited Vietnamese dishes and a cooking demonstration for you to try. Otherwise, Wi-Fi is available onboard free of charge on the terrace deck so you can post your images and live-stream for your friends.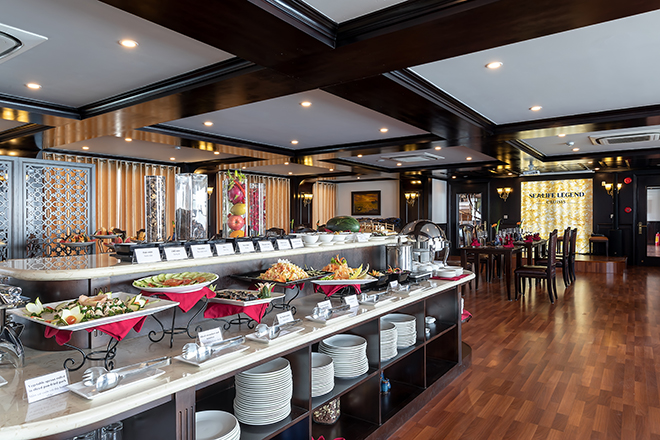 Our private cruises are specially created to adapt the demand of honeymoon couples, families or close friends. Of course, the facilities on the cabin are fully equipped like a sweet home: friendly-used kitchen, cozy dining room, luxury bedrooms, a big-size sundeck for Tai Chi exercise, and various nightlife activities.
Moreover, booking the cruise, you also join the various kinds of fun activities at this World Natural Heritage such as relaxing swim at an exclusive beach, cycling, trekking, scuba diving, caving, mountain climbing, parasailing and so on. And each of cruises has the different activities so you can ask them.
Halong Bay cruise pricing
Currently, overnight on cruise in Halong Bay is the best choice for tourists so there are many brands of cruise to fit with your selection. Of course, the price of ticket will be depended on the type of cruises like the luxury or normal, which provides the different quality of services. Moreover, you must decide the number of days traveling by cruise. The two most popular itineraries happen during two days one night and three days two nights. Actually, the price of ticket will be changed in the particular time. For example, with the 3-star cruise is average 110$/night and with 4-star cruise is average 150$/night. If you choose the private junk, you must pay to 500$/night.